Whether you love it, hate it, ignore it entirely: Valentine's Day is upon us once more. But whatever your relationship status might be, Porn Discounts has put together 5 hot deals to give you a "girlfriend experience" that contains no drama and is sure to please!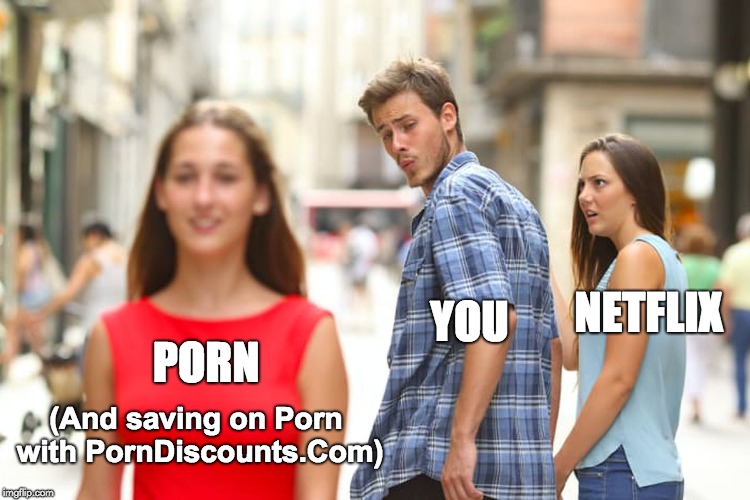 Because face it… sometimes love hurts. Sometimes it "hurts so good" of course (*cough* we're looking at you, Kink.com), but sometimes, if you're like us, well…the situation calls for great porn and possibly a power ballad…
So, without further ado and with this great background music, let's start off by letting you take $25 off the Girlfriend Network. What's that, you say? Could thegfnetwork.com be a network of user-submitted amateur porn? You're damn right it is!
The GF Network contains over 32+ amateur porn sites, the majority of which have that "user submitted" angle. Some of the hot sites you get here include: Watch My GF, Oral Girlfriends, Dirty Wives Exposed, GF Melons, Girlfriend Orgasms, Jizz On My GF, My GF Loves Anal, My Alternative GF, My POV GF, Me And My Latina, My Ebony GF, My BBW GF, My Lesbo GF, and so much more.
They really do cover a wide variety of niches, and in total, you're looking at over 8000 GB of porn here…so more than enough to get you through the winter if you happen to be sleeping alone.
Next up, for all you gamers and geeks out there who got a VR headset for the holidays, this discount gets you Babe VR for only $14.95! Oh. Hell. YEAH! A BabeVR.com membership really takes the guesswork out of your boring evenings.
Babe VR gives you sexy solo scenes where it's just you and her while you watch her pleasure herself. Or, she rides a simulated male torso, POV-style, so you can easily use that tech to fully immerse yourself balls-deep. This is definitely a plus if you're the kind of guy who really doesn't want to hear another dude moaning or whatnot. We also noticed they are starting to do lesbian/threesome scenes too.
You can enjoy Babe VR with Cardboard, Vive, Oculus, Gear VR, PSVR or DayDream. And you're looking at awesome 4K 3D scenes in 180° with binaural sound. Oh, and no sweat if you don't own a headset yet — your membership to Babe VR comes with a free Google Cardboard. Other bonuses here include BaDoink VIP.
So, how's that power ballad coming? Need another one?
Oh yeah, we had to go there–although, we could go here too…
(Just like porn, the song really improves with "fucking.")
Anyway, let's get you back on task: use this discount link to save $10 on ATK Girlfriends! We promise: clicking and signing up will be the best thing you did, because not only do you get smokin' hot amateur POV-style porn, but ATK Girlfriends shoots scenes that are literally a "girlfriend experience" where she plays to the camera in a variety of scenarios (i.e. like you're coming home from a date and she's horny).
The personal action/attention the models give you on ATKGirlfriends.com makes this leagues ahead of your run-of-the-mill POV sites. It's really easy to imagine yourself with these gorgeous babes next door, and the set-up really helps you to de-stress and just focus on the fantasy.
ATK Girlfriends has an archive of thousands of exclusive videos and hundreds of gorgeous babes. You'll get striptease and blowjob action, plus hot fucking (including outdoor sex scenes), anal, footjobs, threesomes, and more! Plus, even with 'amateur' in the name here, we were stoked to find some top adult actresses like Adriana Chechik, Lana Rhoades, Alexis Adams, Aaliyah Love, Elsa Jean, Gina Valentina, Ivy Wolfe, Keisha Grey, Kristen Scott, and many more! Seriously: ditch Tinder and go on a date with ATK Girlfriends!
Next up, up you're still feeling a bit jealous of all the couples out there, See My GF lets you indulge your voyeurism to the max…but the difference is, you get to jack off, cum, and relax, and he probably has to hear her bitch later. What's more, you can score over half off See My GF with our discount.
SeeMyGF.com is a huge collection (they claim to be the biggest) of real amateur girlfriend & ex-gf porn pics and videos. If you love amateur action plus "leaked" photos and videos, then you'll appreciate what these young babes and couples get up to.
Now caveat emporium: this is a genuine 'found footage' place, so there's no way to vouch for exclusivity and no, you're not going to find 40 minute 4K Ultra HD video here. However, See My GF gives you over 10,000+ amateur videos (most of which are pretty short) and 285,000+ pics, and anyone who is a true amateur porn fan and loves raw, gritty action will be stoked.
Last but not least, we have a real doozy of a deal to take you through Valentine's Day and beyond. Sure, there's the "one who got away" who you still fantasize about — but sometimes, unfortunately, there's also the one you needed to take out a restraining order on…
Ah…there's a power ballad for that too!
Maybe the sex was great, but ultimately this was the one who showed up at the office. The one who slept with your [former] friend. The one who keyed your car. The one who burned your clothing, left 400 text messages…yeeeeeah. Since we can't give you a medal for surviving, it seems only fair to give you this crazy discount that scores you Crazy Ex Gfs for just $5.00!
Rest assured: the babes on Crazy Ex Gfs are contained safely on your screens–they cannot get your address or bank statement! And instead of having to listen to their cray-cray, you just get to enjoy their sexy pics and videos. Plus, Crazy EX GFs is part of the Swank Pass network — so your $5 membership here scores you 20+ sites, including: D Cup, Fox Magazine, Swank Magazine, Girl Next Door, Just 18, Black Lust, Lollipops Online, and more!
We hope you'll take advantage of all this great "girlfriend" action — and maybe with some of your savings, treat yourself to some of that chocolate that will invariably be 50% off in the next 24hrs…
In any case, stick with Porn Discounts for more great deals…and hey, even if you're really, really jaded about all that lovey-dovey stuff… "Don't stop believing"…or beating off!