Ok, relax — no spoilers shall be shared herein. But for those of you who were so busy watching the Game of Thrones season 8 premiere that you forgot about jacking off, shame…SHAME…. SHAME!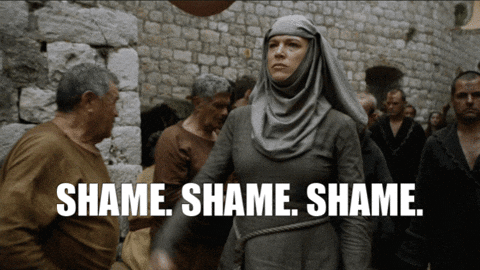 Just kidding, of course! However, no one should neglect their "needs" either for porn or high fantasy. And so to that end, we have a discount that hooks you up with Mr. Skin for only $5! And ps. if you subscribe for the year, they take even more money off the rate!
If you haven't heard of Mr. Skin, this is the #1 site for hot celebrity nudes and pretty much ALL the hottest sex scenes filmed in mainstream Hollywood movies. Now, if you haven't connected the dots yet (no judgment–it's Monday), a MrSkin.com membership means you can enjoy the very breast–er, best parts of the entire Game of Thrones franchise.
Yeah, dragons and swords kick ass, but HELLO: babes like Emilia Clarke along with Lena Headey (and her body double, Rebecca Van Cleave), Esmé Bianco, Oona Chaplin, Amy Dawson, Natalie Dormer, Nathalie Emmanual, Carice van Houten — and so many more hot "wenches" are naked or fucking throughout the entire series…and Mr. Skin has ALL of the juicy parts here for your viewing pleasure!
Mr. Skin is extremely well-organized–and it's a good thing because you have hundreds of thousands of clips and pics! You can browse actors or actresses and get direct links to their scenes — or you can search by movie/television title and extract all of the delicious sex and nudity from any given piece. Just imagine: all of your secret celeb crushes and jerk-off fantasies all together–and one click away!
While we love and respect the hell out of porn parodies, there's definitely something to be said for the thrill of catching some action outside of the adult world too. Mr. Skin gets it — and besides offering up movie and television content, you will also see celeb 'oops' shots, leaked sex tapes, paparazzi shots, interviews and more! You can also enjoy playlists of compilations and video lists with categories–i.e. hottest women in Marvel, Nude on HBO, etc.
Look, we could go on and on singing the praises, but you know you want to skip ahead to the "good parts" — right? We get it! Snag this cheap porn deal and enjoy Mr. Skin for less than a cup of Starbucks!
Whether or not winter is cumming soon, well, you need to cum now, right? HELL YEAH! Let Porn Discounts help! Skip ahead and save on Mr. Skin…and tame that dragon of yours!