It's time once again to appreciate all those "bunnies" out there–although, perhaps not the kind that South Park or most malls have in mind….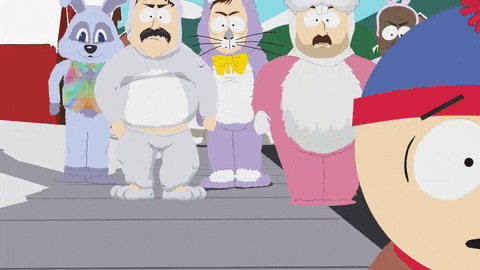 We're talking about the bunnies whose sweet little "hops" make you go "boing! boing! boing!" all night long–and sometimes on your lunch hour too if you're really lucky.
Also, we will flat-out take any excuse for baskets full of chocolate candy, so hooray for Easter! And what better way to get into the spirit of these spring time festivities than a discount for $20 off your Brazzers membership? 
No doubt, watching the 'bunnies' of Brazzers will have a profound effect on you… And no, that's not a Cadbury egg bulging in our front pocket either…*ahem*
Brazzers is one of the biggest and best networks going — and yes, we've talked about them a great deal, because they are one of the best values for your money. With approximately 1,800+ models, Brazzers has more delicious "sweets" than any Easter basket. You will see the hottest ladies in adult, ranging from teen to MILF.
And did we mention how big they are? Hey, size matters–and especially when it comes to your porn collection! With your discounted Brazzers membership, you score 30+ exclusive sites and just about 9,000+ full high definition videos. New updates pour in throughout the week too.
Oh, and by the way, your membership actually works out to being cheaper than Netflix with our discount. That's right: with these savings, you get Brazzers for only $9.95 a month! …and that's probably less than what you spent on Easter chocolate…right? Right? Look, don't come here and claim that all those chocolate eggs are "for other people" or "for the kids" — we see YOU!
Happy Easter from Porn Discounts!
…But we are not judging. Nope. We wouldn't do that! We want you to have your chocolate eggs and eat them too — and save big on Brazzers!
Ps. If you're looking for something different, we also have some other hot flash sales going this weekend, so stop in over at PornDiscounts.com to browse over 4,200+ discount links!