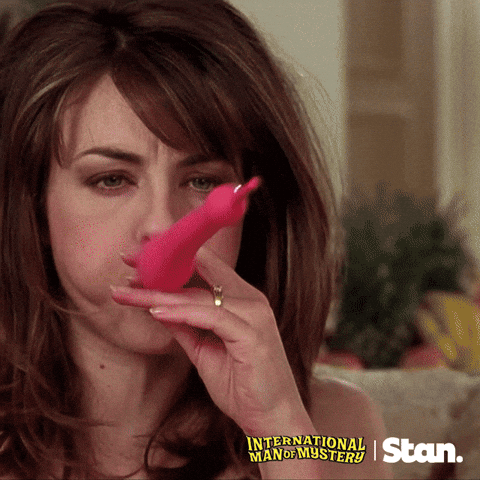 Sometimes when we read the news, we wonder: is this a maybe a porn parody instead? It might be an occupational hazard since our brain is mostly on porn 24/7 — however — this recent headline direct from CIA headquarters could very well pass for a strange reality porn scenario…
A woman was arrested after she repeatedly tried to enter CIA headquarters and asked to speak with "Agent Penis," according to police. Jennifer Hernandez, 58, claimed she had applied for a job at the agency and had an appointment with her recruiter at the complex in Langley, Virginia.
She was first stopped by security when she attempted to walk in through the main vehicle entrance on 22 April. When her story failed to check out, a CIA police officer told her she could be arrested for trespassing if she did not leave.
Ms Hernandez then walked off, only to return on 1 May in a Lyft car. She was given a written warning and again told to leave.  Click HERE to read the full article on The Independent.
Hey, we'd love to see this "true story" get adapted for adult film, if anyone out there with a production company is listening in. But failing that, in the meantime, we've put together some "spy themed" porn discounts–because even if "they" might always be watching, we're always gonna be helping you save!
Starting off, we have a 50% off discount to Spy POV — which actually unlocks a lifetime discount to the entire Dirty Flix Network! As in individual site though, SpyPov.com specializes in hardcore pick-up "trick" action.
The premise is classic: gorgeous young babes show up in "Tony's office" to interview for various job interviews or internships. Naturally, all these interviews result in a hot fucking and sucking session…and the intrepid Tony is wearing hidden spy glasses (which means POV filming), so the babes [allegedly] have no idea they're being filmed.
Next, we have a lifetime discount to Nanny Spy — where you can see gorgeous teen babysitters who find themselves in a compromising position. These naughty teen nannies get busted via spy cam for partying, fucking, or masturbating all over the house. Of course, it's the hot Dad's job to confront those wayward girls and set them straight–and sometimes a MILF joins in too!
NannySpy.com is definitely serving up some hot fantasy scenarios–and if you like reality porn but get 'meh' about faux-cest, this is a happy compromise. You'll not only see some sexy apologizing and blackmailing, but also some wild blowjob and fucking action that is captured in 4K Ultra HD!
Ok now, tme to fess up: have you ever dreamed about being a "peeping Tom" but don't want to break the law or be branded a creeper for life? No sweat — just take $15 off Fitting-Room.com instead! On Fitting Room, you'll see some of today's hottest babes in adult indulging your fetish for lingerie and voyeurism.
These lovely ladies try on those skimpy unmentionables…and then they can't help but get themselves off right there in the dressing room! This visually stunning site will also please fans of erotic photography too.
Now, for those of you who do like to keep the fun "in the family," this discount takes 41% off Spy Fam. On SpyFam.com, the antics of horny stepsiblings and stepparents are captures via spy cam or POV-style filming, so you get lots of hot angles and close-ups where it really matters!
Spy Fam also boasts some excellent production values overall. They film in 4K Ultra HD, and cast some of today's hottest adult stars, including: Abella Danger, Kenzie Reeves, Charity Crawford, Elsa Jean — and many more!
Lastly, for those of you who want a huge archive of amateur action that is geared toward voyeurs, it's hard to beat this discount to Spy Archive that gets you inside for only $12.00! On SpyArchive.com, you'll find thousands of clips, videos, and pictures of everything from sexy upskirt babes in public to babes getting changed in fitting rooms — and horny amateur couples fucking in public.
Spy Archive claims to offer 100% candid camera content, so your quality mileage may vary (sometimes you have cellphone videos), but if you are a die-hard fan of amateur action and voyeurism, then you won't want to miss this deal!
Hey, if you don't "like to watch" that's ok — we know you're lying! Just kidding! But if these 5 deals don't tickle your pickle, it's all good: we have over 4,200+ other discounts waiting for you on PornDiscounts.com, so head over there! But don't forget to keep your eye on us here…cause you never know what naughty things we're going to post next!