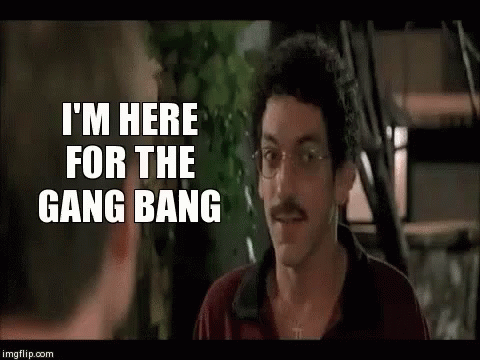 We get it: trust is a touchy thing sometimes, whether it's the person you're dating, your coworker, your sister, snake-neighbor, the government, or a possible omnipotent God who oversees this whole operation… Luckily, whoever dreamed up the name InGangWeBang.com understands your trust issues and the deep existential plight from which they emerge — as well as your need to get off, of course.
We also happen to understand your need to blow your wad, but not your wallet, so help yourself to this discount for $25.00 off In Gang We Bang — oh, and the Mofos network at large!
As these horny amateurs demonstrate firsthand, you gotta go big or go home, right? So it only seems fair that a gang bang site should also cum with a quadruple pussy pile-up's worth of great hardcore porn options! Mofos more than delivers: you're looking at 15 exclusive network sites and 5 original series. You already have several thousand exclusive HD videos here to enjoy, but new updates go live throughout the week!
If you want even more group action, be sure to check out Real Slut Party and Share My BF — but you'll find all kinds of other variety here too. Not to mention, sometimes the best way through a doozy of an existential crisis is to seek out the company of others…and, well, it can't get much more social than a gang bang, right?
…Although, maybe in real life it's best to just stick to dinner parties — unless you're also a sexy, swinging Martha Stewart or a porn director…But no matter what, enjoy these savings to In Gang We Bang, and check out the plethora of good-time hardcore that Mofos has to offer!