Is this you after the shenanigans over St. Patrick's day weekend?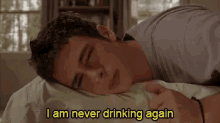 Yeah, we hear ya, bro. Although we actually didn't end up drinking — we got a lame stomach bug instead! Either way though, another Monday is upon us…so the question is: how do we lessen the pain besides Tylenol and electrolytes?
Well, for starters, you still might be able to score crazy discounts with our St. Patrick's Day sale that is still going on a wee bit longer. We have 190+ sites on sale for just $5 and 540+ on sale for only $9.99!  
However, if you're on the hunt for something totally and completely fresh, then go ahead and take 41% off Porn Star Empire with this new discount! 
If you've ever dreamed of a place where you can enjoy all of your favorite adult stars, PornStarEmpire.com is here to let your desires roam free! You get unlimited on demand porn star videos, including lots of new exclusive content as well.
You will find over 8,300+ adult stars here, and well over 100,000+ videos — basically, you're sitting on a gold mine here that encompasses over 30+ years of the adult industry! You'll see hardcore action from every niche under the sun, and with babes from teen through MILF!
Oh, and by the way: they update like 20 times per day here. NOT KIDDING! Plus, you can enjoy Porn Star Empire with your Roku device or Chromecast — so feel free to blow this action up on the big screen!
Your membership also comes with access to Adult Empire Unlimited — and although there's some overlap between the sites, you still get thousands more unique videos.
We also love that they have a separate 'Interviews' section that lets you keep up with today's biggest porn actors and directors. Check it out: we bet it's more fun than your regularly scheduled podcast!
Finally: you don't have to choose between seeing your favorite fantasy babes from yesterday, as well as the stunning new cummers of today — Porn Star Empire has it all and then some!
How are we feeling now….? Well, whether you're horny, hungover, or a mixture of the two, Porn Star Empire definitely will cure what ails you, so don't miss this great new deal!