Yes, we know — we've been on a bit of a MILF-kick here! Maybe it's that warm spring air, or maybe it's just because some of the most incredible ladies working in adult happen to be MILFs!
Now you know us — we love ALL the ladies! We expect we'll do another list of the hottest MILF actresses in their dirty thirties too, plus cougars in their 50s+ — we're all about hooking you up with the most gorgeous adult actresses out there, period!
But, for those of you who watch movies and think: 'but that chick isn't old enough to be anyone's hot step mom,' this little Top 5 list was created in the spirit of showing off all the REAL MILFS in porn who are truly in their filthy forties–and utterly fabulous!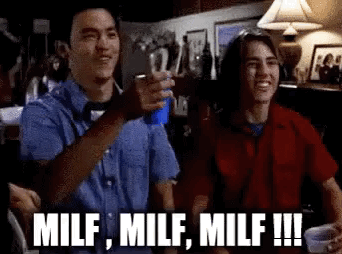 Now without further ado, here is our list — and a discount link to save 41% off Pure Mature, so you can enjoy ALL of these sexy MILFs (and more!) at their very best!
Cherie DeVille – 41
Did you know: Cherie was almost a vice presidential candidate — we're bummed she's seemingly bowed out, because no matter what side of the aisle your ideas might fall on, we think Washington needs more MILFs in charge. Otherwise, Cherie has been busy; since she got into the business in 2011, she's starred in over 500+ adult films, and even has a directorial credit too. We can't wait to see what is next for her, whether it's the White House or more screen time!
Alexis Fawx – 44
This free-spirited MILF is actually a military veteran–that's right! Alexis actually served in the air force for four years. She got into the adult business at age thirty-five while living in Florida. And after that pivotal contract with Bang Bros, the rest is history. Alexis continues to be one of the most in-demand actresses around. Off-camera, she loves the outdoors and has even hiked the Appalachian Trail.
India Summer – 44
India Summer is from a conservative Iowa town–and she's been a happily married swinger for over thirteen years! She started her adult career in 2005–and if you were watching porn back then, you might remember her Sarah Palin parody in the movie Drill Baby Drill, produced and distributed by Penthouse. These days, India continues to keep busy shooting scenes. Off-camera: she's in a hot threeway relationship with her husband and girlfriend, and enjoys doing lots of yoga.
Lisa Ann – 47
Lisa Ann actually had a somewhat illicit start in the adult business — this buxom brunette used a fake ID and became a stripper at age 16! However, she is very business savvy and has enjoyed plenty of success outside of porn too. She opened a spa at one point, and also did contract make-up artist gigs too. More recently, she also released a tell-all memoire of her 20+ year porn career titled, The Life. You can find her camming these days on her own site…and rumor has it, she enjoys spending time with young athletic NBA-bound hunks. Look out, boys!
Brandi Love – 46
We would surely be remiss if we didn't mention a certain blonde bombshell named Brandi Love. Per her 'Boobapedia' entry, Brandi, true to MILF-ness in real life, she actually launched a site dedicated to supporting working parents in the adult industry. Brandi is happily married to her college sweetheart–and they love to swing too! And to help others enjoy marital bliss, in 2008, she also released a book, Getting Wild Sex from Your Conservative Woman. MAGA + Gives good head? No, you aren't dreaming! That's our Brandi! (ps. Brandi loves her liberal fans too!) Her 16+ year porn career has won her numerous awards; however, filming the 2014 This Ain't Game of Thrones XXX parody goes down as one of her "most fun" porn shoots to date.
This concludes our list — but for a little Lagniappe…
Elegant Angel studios also just released a hot new DVD celebrating the 2019 MILF Performers of the Year — and fyi, we have a discount to ElegantAngel.com right here too! As always, check PornDiscounts.com too for even more great savings to MILF action and more!